Online casino slots have become incredibly popular among gambling enthusiasts worldwide. The convenience and excitement they offer have made them a favorite choice for many players. If you're new to online casino gaming or curious about how these slots work, this comprehensive guide will provide you with all the information you need. From understanding the mechanics to exploring different types of slots, we've got you covered.
Understanding the Mechanics
Online casino slots operate using Random Number Generator (RNG) software. This ensures that the outcome of each spin is entirely random and unbiased. The RNG generates thousands of numbers per second, determining the combination of symbols that appear on the reels when you hit the spin button.
Types of Online Casino Slots
There is a wide variety of online casino slots available, each offering unique features and gameplay mechanics. Some popular types of slots include:
Classic Slots: These slots resemble the traditional slot machines found in land-based casinos. They usually have three reels and feature simple gameplay.
Video Slots: These modern slots offer immersive graphics, captivating themes, and exciting bonus features. They often have five reels and multiple pay lines, providing more winning opportunities.
Progressive Jackpot Slots: These slots offer enormous jackpots that increase over time. A small portion of each bet contributes to the jackpot, allowing it to grow until a lucky player hits the winning combination.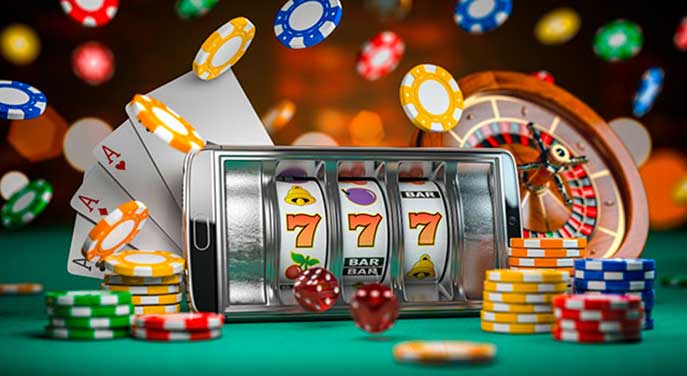 How to Play Casino Slots Online?
Playing online casino slots is straightforward and doesn't require any special skills. Here's a step-by-step guide to get you started:
Choose a Reputable Online Casino: Selecting a trustworthy casino is crucial for a safe and enjoyable gaming experience. Look for licensed casinos that offer a wide selection of games, reliable banking methods, and excellent customer support.
Create an Account: Sign up at your chosen online casino by providing the required information. You may need to verify your identity to comply with legal requirements.
Fund Your Account: Once registered, deposit funds into your casino account using one of the available payment options. Most casinos offer various secure and convenient methods, including credit/debit cards, e-wallets, and bank transfers.
Explore the Game Library: Browse through the casino's collection of online slots and choose the game that interests you. Many casinos offer free play or demo versions, allowing you to test the games before playing with real money.
Set Your Bet: Adjust the coin value and the number of pay lines according to your preferences. Determine your bet size and spin the reels by clicking the appropriate button.
Bonus Features and Free Spins: Keep an eye out for bonus symbols and special features within the game. These can include free spins, multipliers, wild symbols, and interactive bonus rounds, enhancing your chances of winning.
Conclusion
Online casino slots provide an exhilarating and convenient way to enjoy the thrill of gambling from the comfort of your own home. Understanding how these slots work is essential for an enjoyable and responsible gaming experience. Remember to choose a reputable online casino, explore the different types of slots available, and familiarize yourself with the rules and features of each game. So, why wait? Start spinning the reels of your favorite online casino slots and embark on a thrilling gaming adventure today!